The Cleaning Method That Changed My Life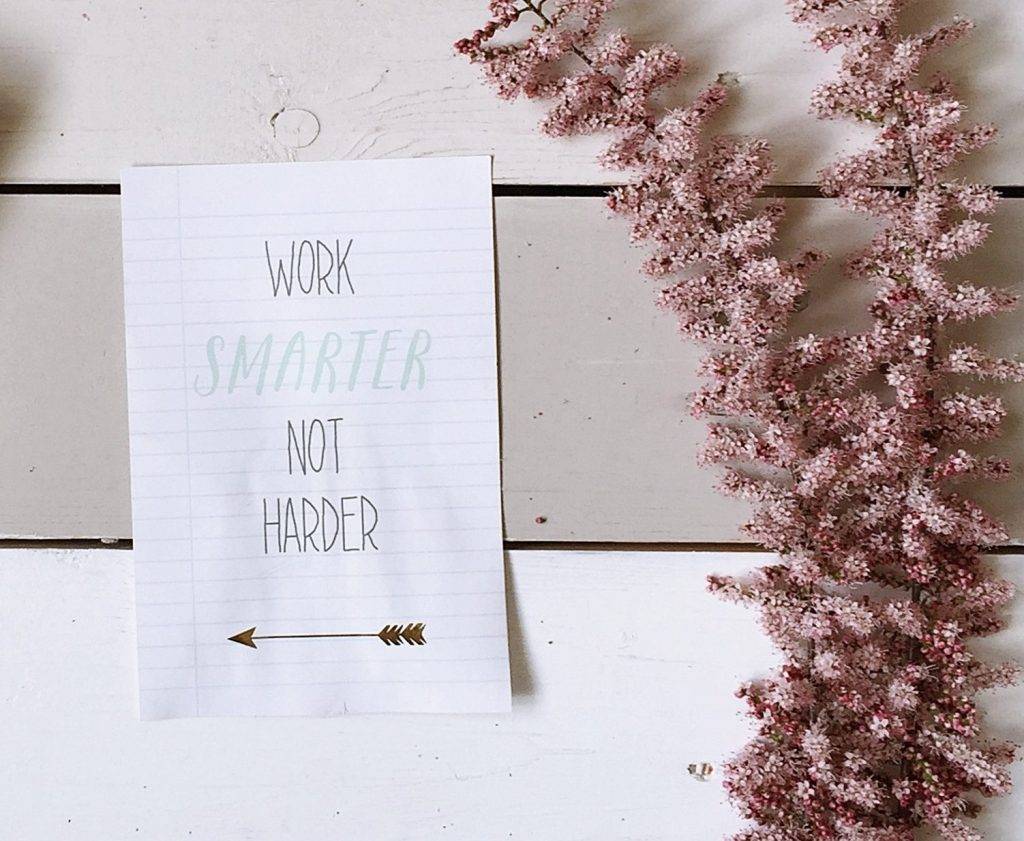 Cleaning is a part of adulthood. There's no way to go about it. I've tried so many templates, schedules, systems, to try to find the best way to get it done without hating it every time.
I don't know about you but I've always dreaded cleaning day and laundry day(s) because it never felt like I was getting anywhere. The mess would always come back, the laundry basket would always get full again. I felt like this was a never-ending battle and I was always losing.
Until I finally came up with a system that's revolutionized my cleaning method.
It Is My Self Maid Mama Cleaning Method.
First we use our monthly calendar to schedule in the weeks that we'll be actually cleaning versus touch up cleaning. These are divided into "A" weeks and "B" weeks.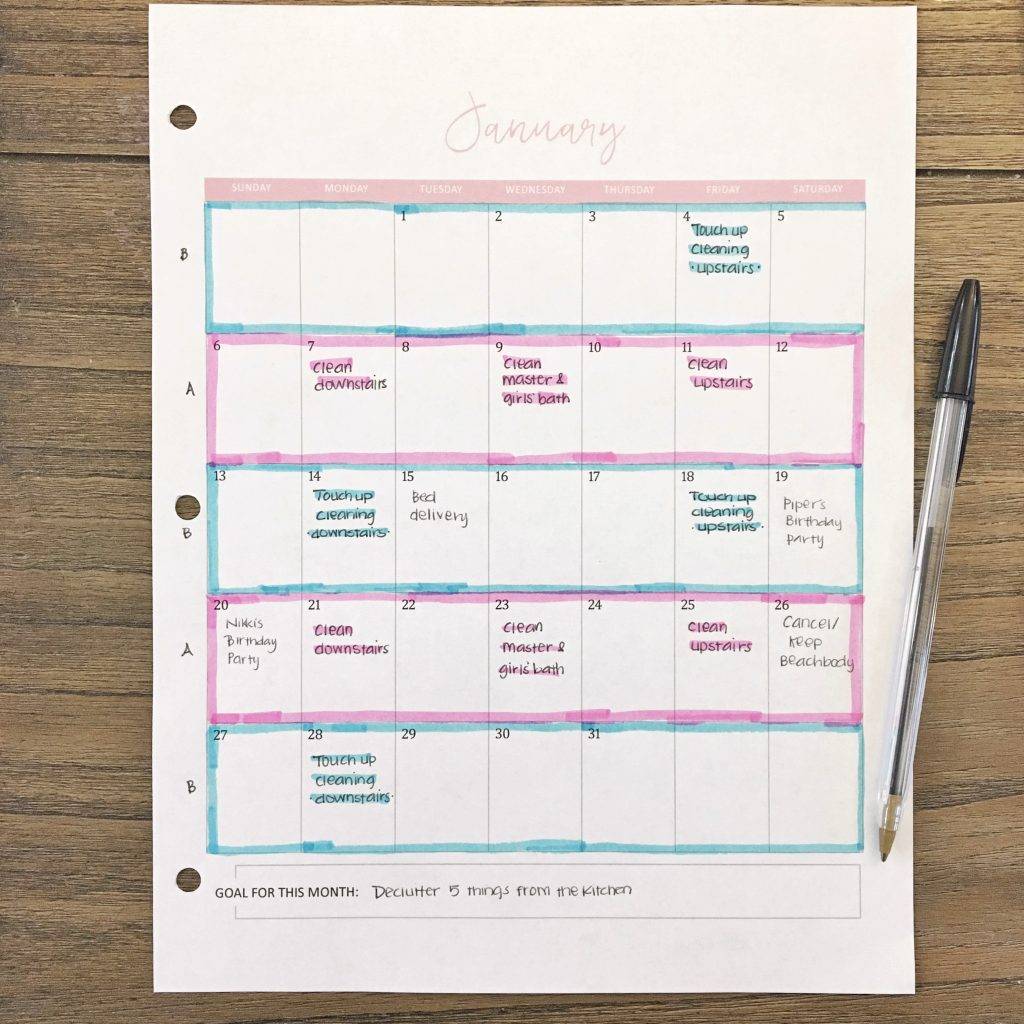 How does actual cleaning differ from touch up cleaning?
Actual cleaning is the deep cleaning of all the spaces in our homes. We will be going in there room by room and cleaning from top to bottom.
Touch up cleaning is a touch up clean of the bathrooms, the floors, and maybe the kitchen.
USING A CLEANING CHECKLIST
This cleaning checklist is my guideline (actually my lifesaver!) Sometimes you lose track of what you need to do when you're cleaning. Or maybe you forget to do something.
The beauty of this checklist is you will always a have a baseline every time you clean a space. The checklist gives you a standard for each room you're in so you will get the same results every time.
There's a reason why hotel housekeepers and maids use checklists whenever they clean a room. That way no matter who is cleaning, when you're cleaning, or how you want to clean, all the necessary tasks are completed so the space will have the same result every single time.

DIVIDING UP THE CLEANING TASKS
- Dust first floor

- Vacuum first floor
- Kitchen
- Powder room
- Master Bathroom

- Guest bathroom
- Guest bathroom

- Vacuum upstairs
Then we will choose which days each room will be cleaned. For me personally, I did not want to clean every day. So I've split the rooms into 3 separate days: Monday, Wednesday, and Fridays.
On Mondays, I clean everything on the first floor.
On Wednesdays, I clean the master bath and guest bath upstairs
On Fridays, I clean the bedrooms and loft space upstairs.
I've scheduled 2 hours on each my cleaning days to clean. This is how long I have, so that's all I give myself to clean. It's really hard sometimes because I am a perfectionist when it comes to making sure everything is done right.
I want it to look perfect when I'm finished. I've had to learn that done is better than perfect. I can do a B+ job and it's still okay. The space will still look great.
Have you ever painted a picture? I love painting. I took a wine and paint class with my mother in law a few years ago and it was so much fun.
The painting we were doing that was of an evergreen tree in the snow that we were going to paint that night.
The gal that hosted the paint night also had different paintings on different nights.
To get a completed picture for everyone that looked like the sample, the instructor laid out steps for us.
The first step was to draw the trunk, next was to paint the limbs, then the snow, and so on. By the end of the class we all had one completed painting.
Now, what if, instead, she had us paint the trunk of the tree on our canvas. Then on a different canvas paint part of a picture from a different night. Then come back and do the limbs on our canvas. After that take a break and paint a part of the second picture.
Wouldn't it take forever to get one completed painting?! And how frustrating to never be able to finish one painting before starting a brand new one?
That's how I felt about everyone else's cleaning schedule.
So many cleaning schedules online break down cleaning into tasks on different days. This system never worked for me because I would never feel like the room was ever clean.
I don't like to break cleaning up into tasks on different days because you will never see a completed room. You will only see portions of it and you'll never get that satisfying feeling of seeing a finished product. That takes away that satisfaction you're working so hard for.
AN EASY TASK + A HARD TASK CLEANING METHOD
Another benefit of this system is that I pair harder things with easier things. The master bathroom is hard for me. I won't lie long time and a lot of work and effort. The guest bath is so much easier. And takes up a lot less time. So when I pair those together, that cleaning day is actually more manageable for me. I'm also in the mindset of cleaning the bathroom.
Dusting the bedrooms isn't too difficult but vacuuming all the rooms feels a little harder. Pushing and lugging our clunky vacuum around is harder work (in my head), so they get paired together.
When you pair something easy and something harder, together, those cleaning tasks become more manageable and less daunting.

SO HOW DID THIS CHANGE MY LIFE, AND HOW COULD IT CHANGE YOURS?
There are so many reasons why using this cleaning method has been so beneficial for me:
- I'm not cleaning everyday. I don't want to have to clean my house everyday. This method allows me to take breaks.
- You are able to see a finished product when you're finished on a cleaning day. I don't want to go around and dust one day and look around and see no progress. That would only discourage me.
- There is built in grace time. By having one week as almost a break time, gives you a sigh of relief knowing you don't have to do the whole house for another week!
ACTION STEPS AND CONCLUSION
If you are just starting out, trying to find your groove with cleaning and maintaining a cleaning schedule in your home, this all may sound super overwhelming. Trust me, I totally understand that.
The best thing to do is take it one step at a time:

- Track your time without adding or changing anything. Where is your time going?
- Identify what you're doing on a regular and consistent basis, your regular schedule. Like work, time with the kids, school, etc.

- See where you have free time left over after all your other priorities are scheduled in first.

- Break up your house into smaller chunks so you are completing one room at a time

- Transfer each room block into a block in your schedule.

-Follow through on your plan. (That's the hardest part!)