How Often Should You Deep-Clean Your House?
How Often Should You Deep-Clean Your House?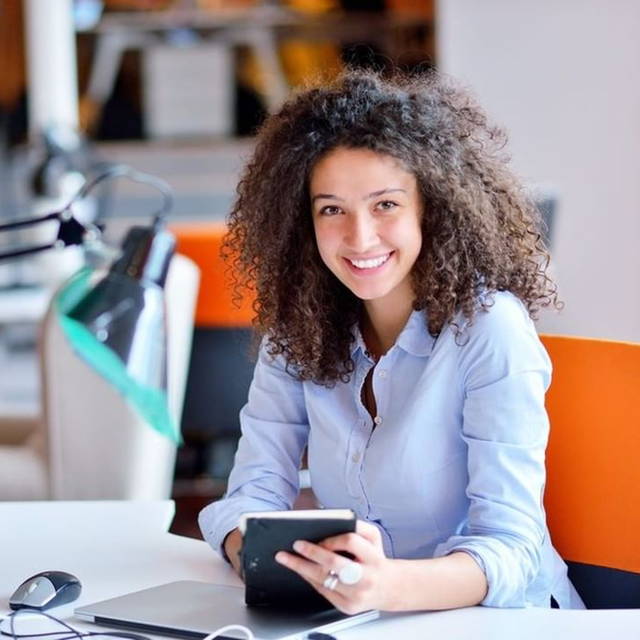 By Jane K - 10 of June, 2021
House cleaning is an important chore that can keep your home beautiful, livable and sanitary.
How often to clean a room in your house depends on the purpose of the room and how frequently you use it. Much as I try to convince myself that I am keeping my house clean daily, in fact, I could probably spend a little more time on the daily clean-ups so that I don't have a massive cleaning job every weekend. For those of us who don't love housework, the key doing less overall is to do a little more each day. And most of these daily tasks can be done in 30 minutes or less.
By maintaining a regular schedule, you can ensure that your home is always presentable and avoid the last minute rush to tidy up when a friend is coming over.
How often you need to clean your house will vary with each chore, but there are some simple guidelines that can help you create your own house cleaning schedule.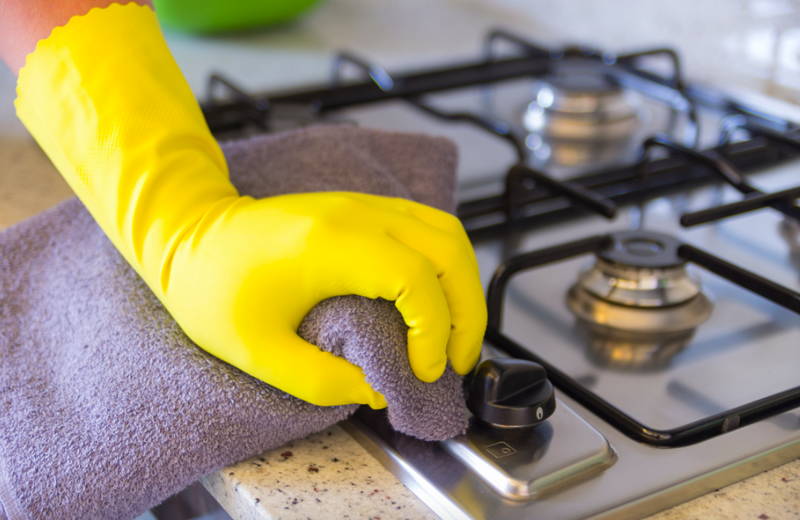 The kitchen is one area of the home that cannot get by with anything less than a daily cleaning. Not only do we cook and eat, but we also hang out there. Since how often you clean your kitchen depends how much you use it, cleaning as you go is a good idea. For example, if you wash the dishes right after cooking a meal, they won't pile up. The floor should be swept and mopped once or twice a week, or more if needed. The fridge should be cleaned out regularly. The ideal time to do this is right before you go grocery shopping, so a fridge full of spoiled food and rotten leftovers doesn't fool you into thinking you don't need to buy more food. Give the appliances, fridge and sink a thorough scrubbing once a week.
Same thing with countertops and stovetops. Wipe them down each time you use them. Use a mild dishwashing liquid or kitchen spray to get rid of any stickiness or residue from spills. For tougher spots, use a scrub brush or pad to get rid of stains. Last, sweep the kitchen floor, so it doesn't get dirty again while cleaning other areas of the kitchen.
Ovens or refrigerators need a quick wipe whenever you spill food to prevent more intensive clean-ups in the future. If you cook with your oven frequently, give it a thorough cleaning every two to 12 weeks. If your oven is self-cleaning, run the self-cleaning feature and wipe away any remaining ash from your oven. If it is non-self-cleaning, use a brush and oven cleaner to wash away any food remnants. Remember to keep your kitchen well-ventilated when cleaning your oven.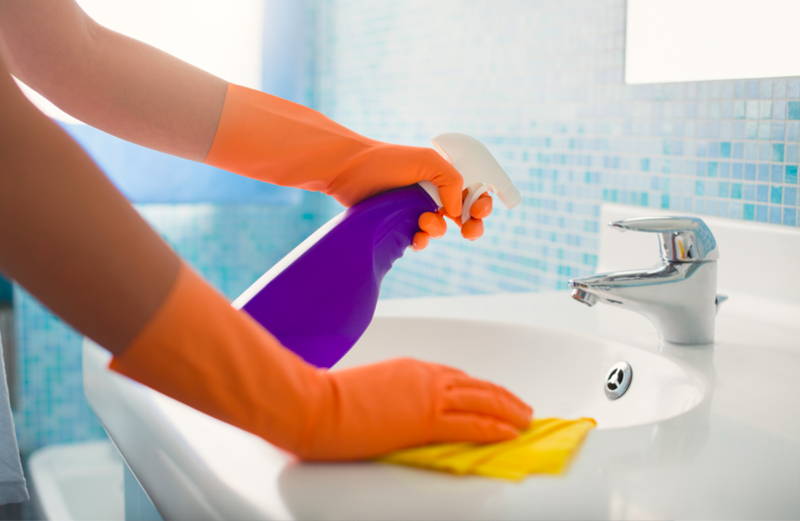 Cleaning every day obviously implies that you will have a consistently sparkling bathroom, which is idea, but unless you are set on doing chores all day every day, inevitably, other areas will get left out. Cleaning once a week, although still considered "regular" cleaning, means that some dirt and grime will build-up
During your weekly bathroom clean-up, thoroughly wipe your bathtub and shower stall with warm water and a bathroom cleaner to eliminate any built-up dirt. If you do see mildew growth, use some bleach or a mildew remover to take it off. Look carefully at your shower head for any mildew build-up too and clean it off.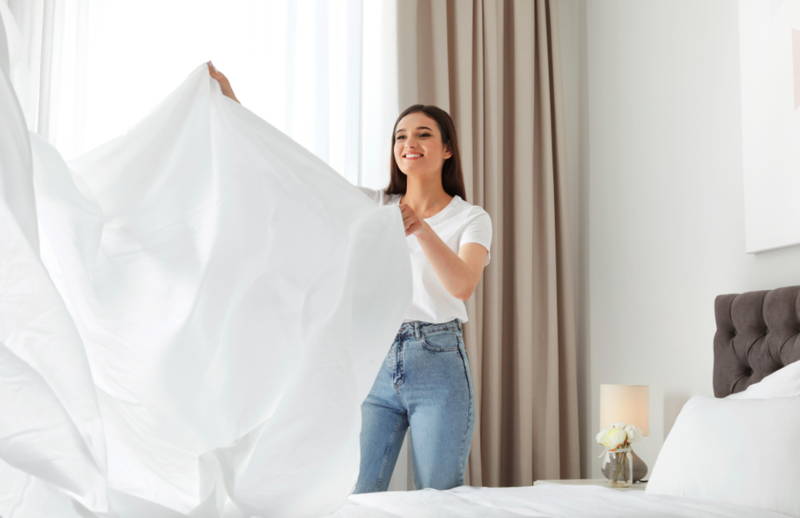 The bedroom will need less work than the other areas of the house. Tidy up any laundry, books, shoes and other clutter on a daily basis. Once a week, change the linens, dust the furniture and vacuum the carpet. Once a month, you should vacuum and rotate the mattress. In children's rooms, you may need to wipe down surfaces and pick up toys more frequently. Encourage children to help you with these tasks until they can eventually complete them on their own and take responsibility for their own bedroom.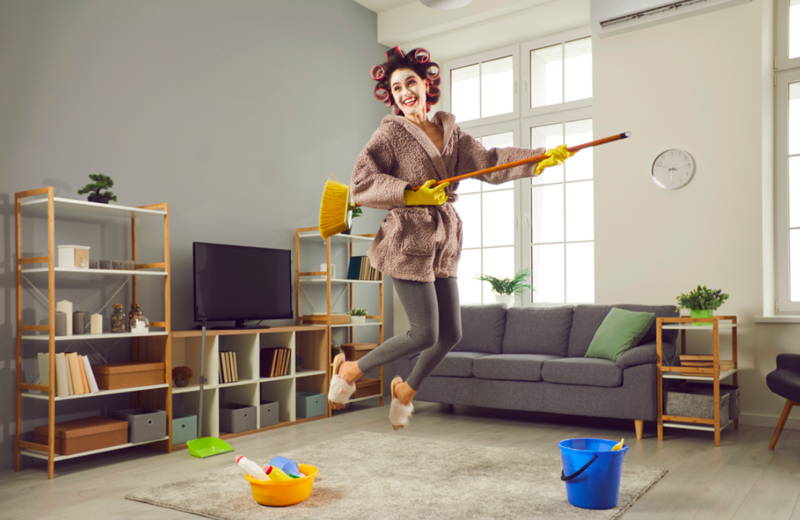 The state of your living room will vary greatly depending on the number of people and pets residing in your home, and how much time they spend there. If you live alone or with your spouse and you both work during the day, then your living room may remain largely untouched throughout the week. If you are a stay-at-home mom with kids that are homeschooled and an ever-growing collection of pets, you will fall at the opposite end of the spectrum. In general, you should vacuum the carpets two or three times a week. Pick up books, toys, cups and other clutter at the end of the day, every day, and wipe off surfaces. Vacuum the upholstery once a month, and shampoo the upholstery and carpets once or twice a year.
Some household cleaning can be left to a once-yearly "spring cleaning." Don't let the name fool you, though. You can just as easily take on an annual cleaning in the summer or fall, though winter is ill-suited to many of the tasks involved in this campaign. Once a year you should give the house a thorough scrubdown. Clean under and behind furniture, including the fridge and other appliances. Dust the ceiling and fans, wash the drapes and wash scuff marks and stains from the walls. Empty bookcases and toy shelves and wipe down the shelves and the items that go on them. If you are doing this cleaning in the fall, this is a good time to launder and put away summer draperies and linens and air out the fall set. Likewise, in the spring this activity can be reversed.